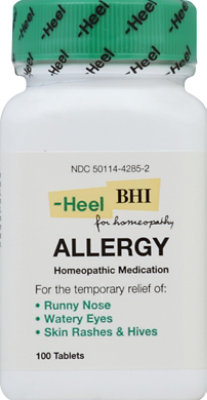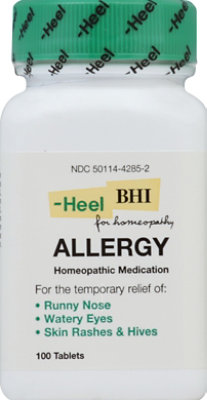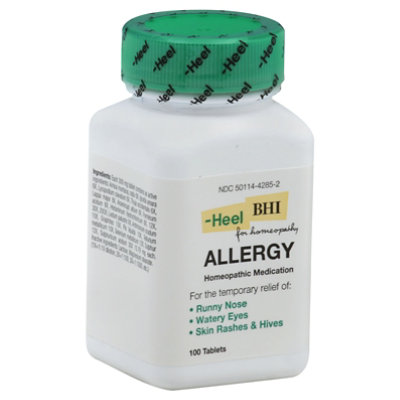 Bhi Allergy - 100.0 Count
Allergy, Tablets
Homeopathic medication. For the temporary relief of: runny nose; watery eyes; skin rashes & hives. For homeopathy.
Each 300 mg Tablet Contains as Active Ingredients: Arnica Montana, Radix 6X, Ignatia Amara 6X, Lycopodium Clavatum 6X, Thuja Occidentalis 6X, Lappa Major 8X, Arsenicum Album 8X, Formicum Acidum 8X, Histaminum Hydrochloricum 8X, 12X, 30X, 200X, Ledum Palustre 8X, Antimonium Crudum 10X, Graphites 10X, Pix Liquida 10X, Tellurium Metallicum 10X, Selenium Metallicum 12X, Sulphur 12X, Sulphuricum Acidum 30X 15.79 mg Each. Inactive Ingredients: Lactose, Magnesium Stearate, (1X=1:10 Dilution, 2X=1:100, 3X=1:1000, Etc).
Warning
Contains: If symptoms persist or worsen, a physician should be consulted. As with any drug, If you are pregnant or nursing a baby, seek the advice of a health care professional before using this product. Store tightly closed at room temperature. Protect from light and moisture. Keep this and all medicines out of the reach of children. Tamper Evident: Use this product only if imprinted shrink seal around neck and cap is intact.
Directions
Dosage: Adults and Children Above 6 Years: 1 tablet sublingually or dissolved completely in mouth 3 times daily or as directed by a physician. Infants and children to 6 years: 1/2 the adult dosage.